Layer Like A Pro With These Cold Weather Tricks
Tis the season for layers!  But more often than not we layer for practical reasons and then hope for the best when it comes to our outfit.  Today I'm sharing 3 fabulous ways to layer outfits using neutral wardrobe staples you already have.
Knit Separates
A long cardigan goes a long way this season, and is one of my go-to's for breaking up separates that are the same colour without adding bulk.  Add some extra warmth with a moto jacket styled in the classic off duty model way and top the look off with a scarf.
ZARA, Tan Turtleneck Sweater| Addition Elle, Tan Skirt |ZARA, Taupe Leather Boots | Banana Republic, Copper-Gold Metallic Leather Saddle Bag | Addition Elle, Chocolate, Long Coatigan | Rudsak, Dove Moto Leather Jacket | Aritzia, Peniche, Wool Blanket Scarf
Blouse and Trousers
We all have a great blouse and trouser combination that we love.  You can instantly elevate your outfit by tucking in your blouse and adding a belt.  To keep the silhouette strong we've added a cropped sweater in mustard with a partial tuck, and finished off with a wool vest. Don't forget you can also layer your jewellery.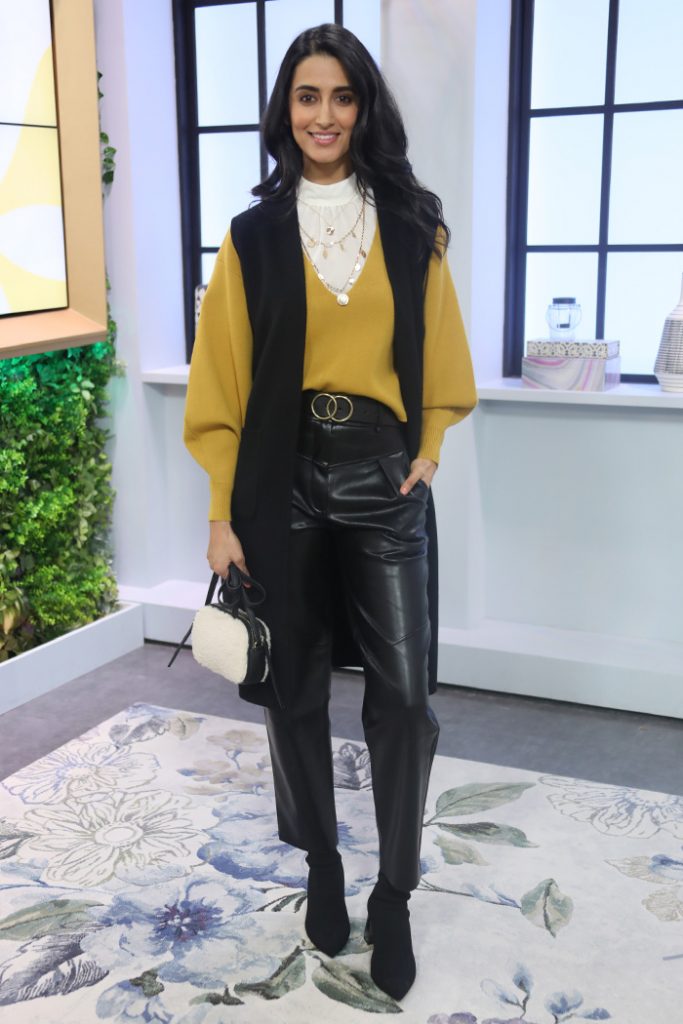 Massimo Dutti, Cream Puff Sleeve Blouse | Aritzia, Black Faux-Leather Pant | ZARA, Black Stretch Ankle Boots | Banana Republic, Natural Sherpa Crossbody | Aritzia, Black Double Ring Belt | Aritzia, Gold Cropped Sweater | H&M 3 Tier Necklace | Massimo Dutti, Black Waistcoat
Turtleneck and Corduroy Pants
Head-to-toe winter white is always a show stopper.  I've added a tunic shirt and cable knit sweater, but again to keep the silhouette cinched instead of bulky I've added a blingy belt right at the waist.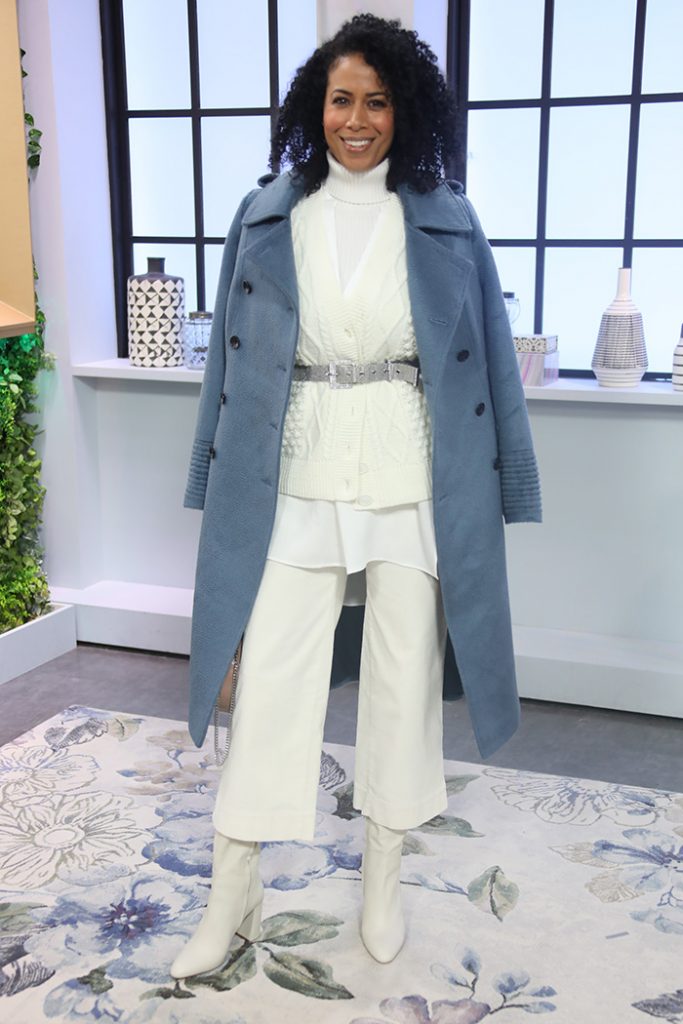 GAP, Chino Corduroy Pant |ZARA, White High Leg Leather Boots | ZARA, Peach Round Bag |ZARA, White Blouse | GAP, White Cardigan Sweater |ZARA, Sparkly Metal Belt | Sentaler, Blue Trench Coat
Images from Caitlin Connelly/CTV