How To Style The Long Short Trend Like A Pro
Thanks to the athleisure trend, bicycle shorts hit the mainstream last season. Now designers are taking note, creating shorts that are mid-thigh (or right above the knee), high-waisted and universally flattering!  The long short can be dressed up or down, so whether you're riding a Peleton bike or heading for brunch these shorts will bring you there in style.
Bicycle Shorts
Mesh detail elevates them, made from recycled fabrics. Added an oversized sweater, tied in a knot to get a cropped looked and paired with a denim jacket and belt bag. Try with a moto jacket or a mule to completely transform the look.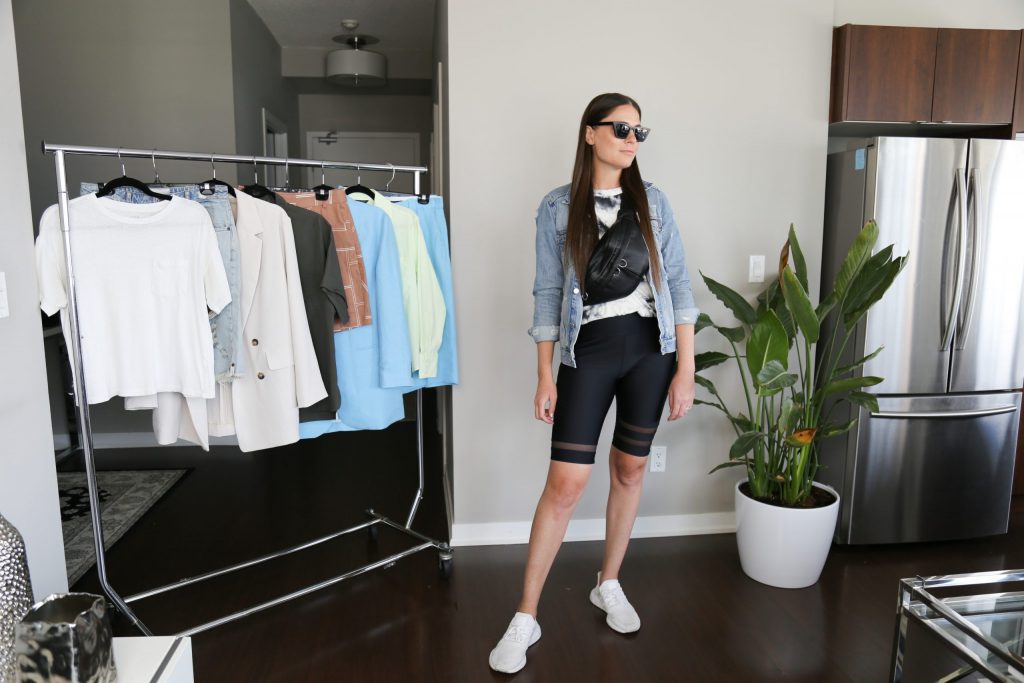 Biker Short, Selfish Swimwear, $85  |  Tie Die Top, Sense of Independence, $75  |  Denim jacket, H&M, $59.99  |  Beltbag, Top Shop, $19.60  |  White Sneakers, Adidas, $110  |  Sunglasses, Leia, $59
Long Denim Short
These shorts have that "ripped feel" which is so on trend this season. I started with basic tee and elevated it with an oversized boyfriend blazer, which is a great trick since ripped denim can read more casual.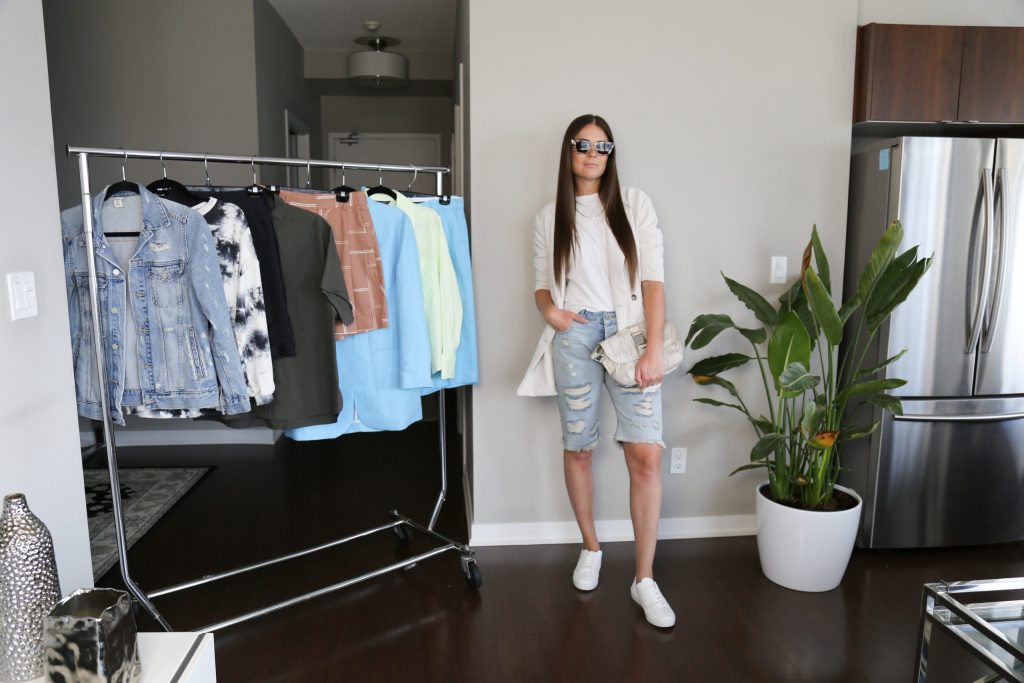 T-shirt, Gap, $24  |  Denim Long Shorts, Hudson's Bay, $81 |  Crossbody Bag, TopShop, $24.50  |  Chain necklace, Jenny Bird, $95  |  Chain necklace (longer length), Jenny Bird, $125  |  Sunglasses, TopShop, $18.20  |  White leather trainers, Massimo Dutti, $139
Bermuda Shorts
The great thing about these shorts is they are so light weight. The geometric pattern in a rose shade looks stunning with a button up olive blouse. These shorts can also transition to Fall with an opaque tight and ankle bootie.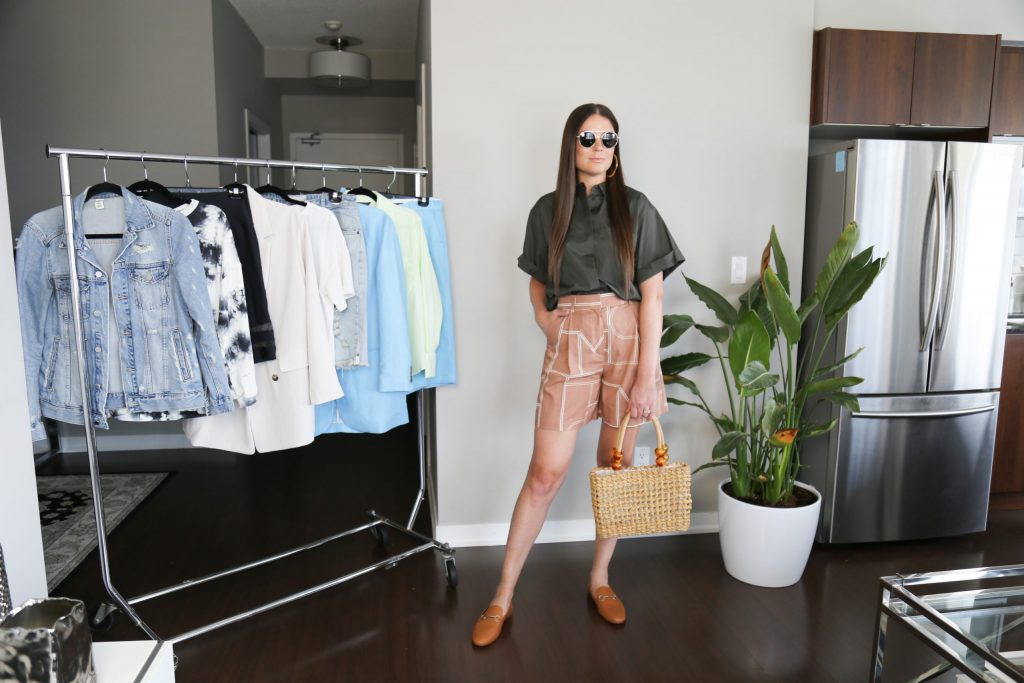 Green button-down shirt, Massimo Dutti, $99.90  |  Blush printed Bermuda shorts, Massimo Dutti, $99.90  |  Sunglasses, BonLook, $179  |  Earrings, Jenny Bird, $95  |  Camel Loafers, Massimo Dutti, $159  |  Woven bag, Zara, $49.90
Suit Pant Short
Think a classic trouser but cut it off above the knee. Suiting has come back in such a big way! Look out for suiting in a breathable fabric for those super hot days.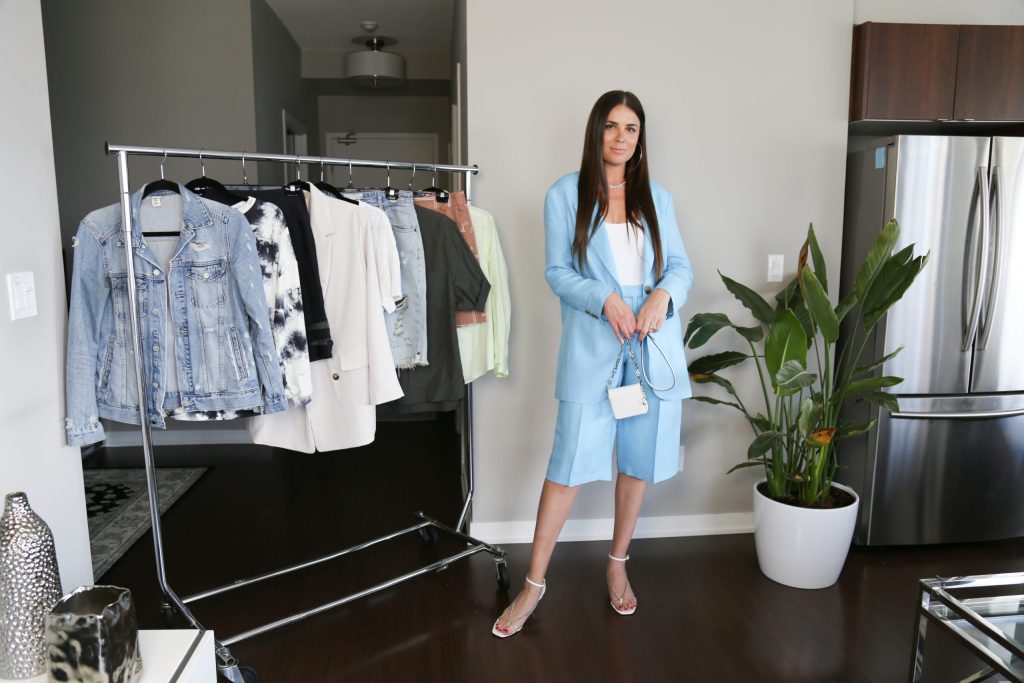 Blazer, Zara, $119 |  Shorts, Zara, $59.90   |  Earrings, Jenny Bird, $90 |  Crossbody chain-strap bag, TopShop, $18.20  |   Necklace, Biko Jewelry, $145  |  White kitten-heal sandals, TopShop, $52.50